Getting Started

It's amazing how these two little words can sometimes cause anxiety. Design-build renovations are a big undertaking and can be a bit nerve-racking because there are so many unknowns. We're here to tell you they don't have to be. Your renovation will be a great experience with us as your partner! We've been helping ambitious clients like you for over 65 years and with more than 2,600 projects under our (tool) belt, you could say we've perfected the process of what it takes to achieve outstanding success.
While there is a lot that goes into doing a renovation the right way, you can rest assured your home will be in excellent hands. You'll be working with the best award-winning design-build team that is leading the industry. Our professional designers, hyper-organized project managers, and skilled construction crew will be with you every step of the way offering their expertise, design clout, and master craftsmanship to create a vibrant space like no other.
You'll enjoy our proven four-step Pioneer Process. Like our renovations, it's been finely crafted from start to finish to ensure a balance of great design, effective solutions and value. Plus, it eliminates all the guesswork so we can efficiently get down to business when you're ready to get started with us. You no longer have to worry about where to start, what's in the middle or where you'll end up. We've got the whole path mapped out and are eager to show you how truly great a renovation experience can be. So, let's get started on your journey. We'll make sure it goes according to plan (and you have some fun along the way)!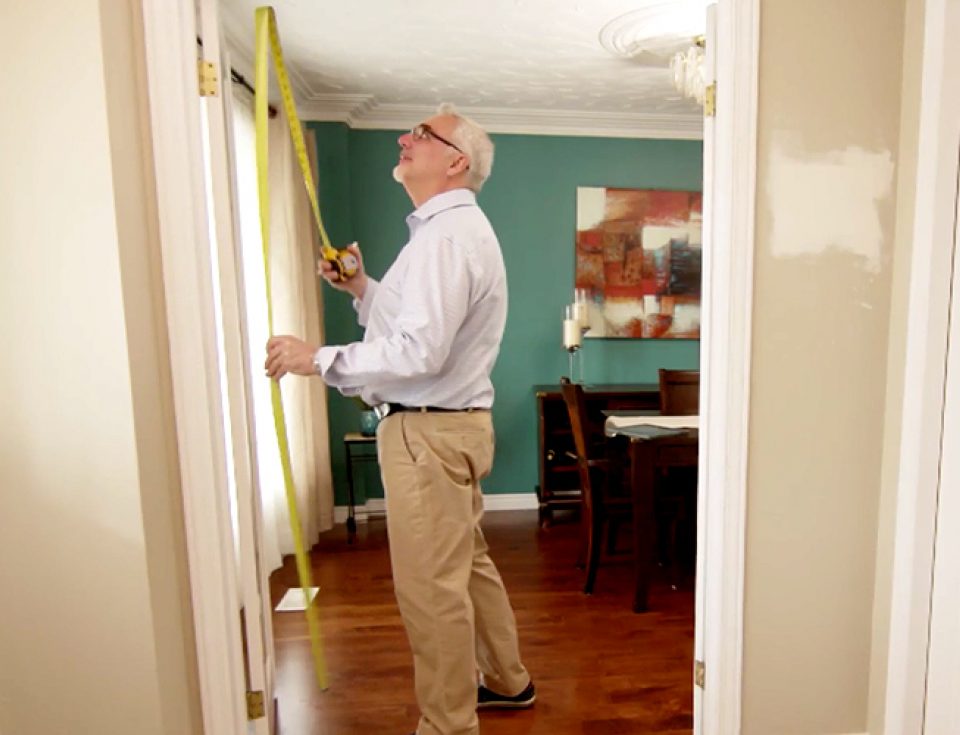 Discover
what's possible
Get In Touch With Us
Give us a call, send us an email or complete our project questionnaire (at the bottom of the page) and we'll connect with you to learn more about your project. Share with us what you have in mind, the challenges with your space, if you've renovated before, have a budget in mind, or a timeline you're hoping to meet. We'll also ask you what you're looking for in a renovation partner.
Our Renovation & Design Specialist Will Call You
After we receive your inquiry, we'll share your project details with one of our Renovation & Design Specialists who will arrange a short 15-minute call with you. Together you'll explore more specifics, discuss how Pioneer can help, and what your project investment might look like.
In-Home Visit
If our design-build services fit with what you're hoping to accomplish, we'll set up a time to visit your home so we can sit down together and talk more in-depth about what the renovation will mean to you and your family. During this consultation, we will gain a better understanding of your lifestyle, assess your higher and lower priorities, and confirm the level of investment you're comfortable with.
Project Development Agreement Signed
If you're ready to move to the next step with us, signing a Project Development Agreement for 4-6% of the agreed-upon budget ensures we're both committed to the comprehensive, and exciting design phase.
Design
With Exceptional Creativity
Gathering the Details
This is when the excitement begins! Our Renovation & Design Specialist, along with a few key team members (like a Project Manager, Lead Carpenter and/or sub-trade), will visit you to do an intensive investigation and professionally assess your home. During this time, we'll be able to see firsthand the kinds of challenges you're looking to solve, your home's structural components, and any other details that are important to the development of your custom renovation solution. We'll take key measurements and photos to help us establish an accurate baseline 3D model of your home for the design phase.
Hand-Selecting Your Design Team
With a thorough understanding of your project from the site investigation, we hand-select the in-house design team best suited to your renovation needs. As the design process gets underway, our experienced designers flex their creativity, distill all the information you've shared with us, and craft beautiful solutions that are perfectly customized to your family and budget.
In-Person Design Presentation
Once your renovation designs are ready, we welcome you to Pioneer Craftsmen's office for a two-hour presentation where we'll show you up to three exciting design solutions using our Chief Architect 3D design and drafting program. You'll be impressed by how this amazing software brings your concepts to life by showing perspectives and fully-rendered images of how your space could be transformed. You'll be able to clearly see the things you expected and a few unexpected delightful ideas you didn't know were possible. Plus, we'll provide you with a link so you can access the 3D models in the Viewer on your own for 30 days after the presentation to review, rotate, and ponder the design solutions. Occasionally during this process, we come up with ideas that might go beyond the scope of your budget. When this happens, we'll discuss it openly and honestly with you because we never want you to fall in love with an idea without understanding the consequence of cost. We'll make sure you are well-informed so there are no surprises as the project moves forward.
Detailed Budget Review with No Surprises
Naturally, the financial return on any investment is very important, and for many folks it can be the most critical component of renovating. However, to have a home that functions exactly as you need it so your family can grow together is an investment that adds immeasurable value to the real heart of the matter – you and your family.
After any final revisions have been made to the design solution you selected, you'll meet with us again to review a fixed-cost estimate which is presented as a lump sum with written specifications (including material allowances and any optional items for your consideration).
This type of estimate is possible because our thorough design process provides us with a complete understanding of your renovation and all of its deliverables, so you never have to worry about your project going over budget. We'll walk through the proposal with you, answer any questions, and make sure you're comfortable with everything we presented. From there, if you're ready to move forward you just sign on the dotted line.
Job Flow Chart
A job flow chart specific to your renovation will be created with dates to orchestrate all of the sub-trades and the hard deadlines required to complete your project on time. It will also outline the milestones that initiate the invoices based on job progress. You will be notified of your start date and duration as soon as possible, then given a finalized copy of the job flow chart that we'll review with you to ensure you have a clear picture of how your renovation project will be completed.
Construction Contract, Payment Schedule & Deposit
We'll compose an official Construction Contract with a Payment Schedule that outlines the invoice milestones for you to sign-off on. We then collect an initial 10% deposit based on the total of the proposal you accepted with any approved options.
Selection Process
This is when your renovation starts to take shape. We'll establish a schedule with deadlines to take you shopping and help you select the beautiful materials, sleek fixtures and stunning finishes for your project. This will require a fair amount of your time to ensure everything is chosen to your satisfaction (several 3 to 4 hour work-day time slots will be booked). You'll receive our personal attention and recommendations throughout this guided process, and upon completion, we reconcile all of your choices to the fixed-cost estimate. If there are any selections that fall beyond the scope of your budget that you want added, we'll prepare a Change Order for your final approval.
Finalized Design
Revisions to the scope of work may occur as we work our way through the selections process due to unique product offerings or brainstorming offshoots that result in design changes. Upon your request, we'll revise our drawings to reflect those changes for your final approval, along with any associated costs on a Change Order. We want to make sure that your final design matches what you walk into at the conclusion of the project.
Trade Day
Depending on the scale and complexity of your renovation, we may choose to have a Trade Day at your home where we review the scope of work with all of our sub-trade partners so they are familiar with the project before construction begins.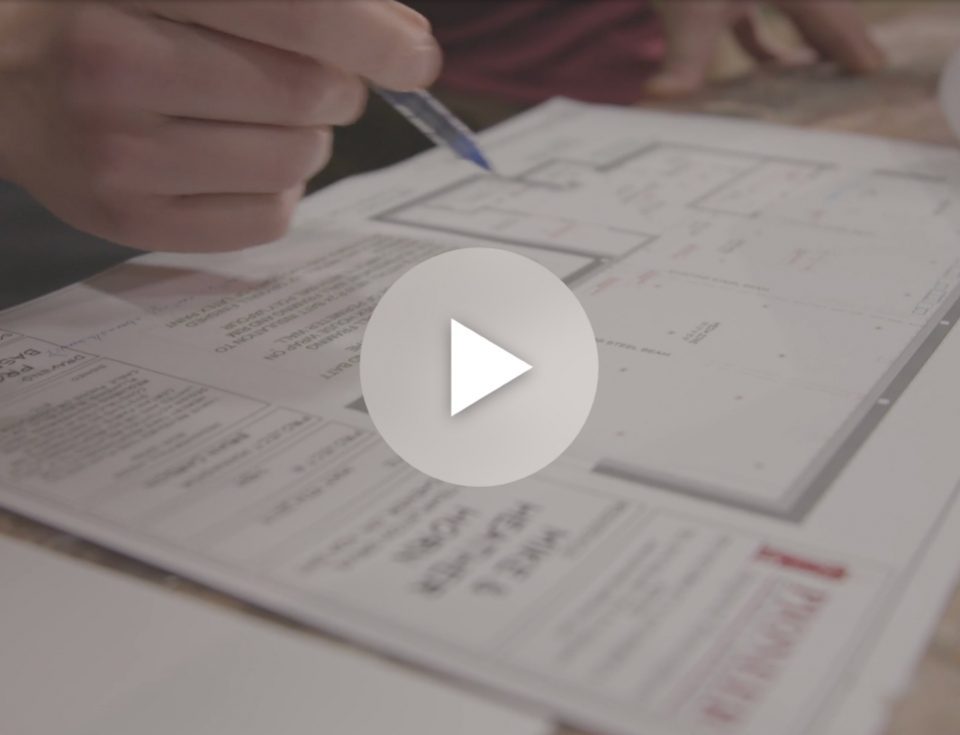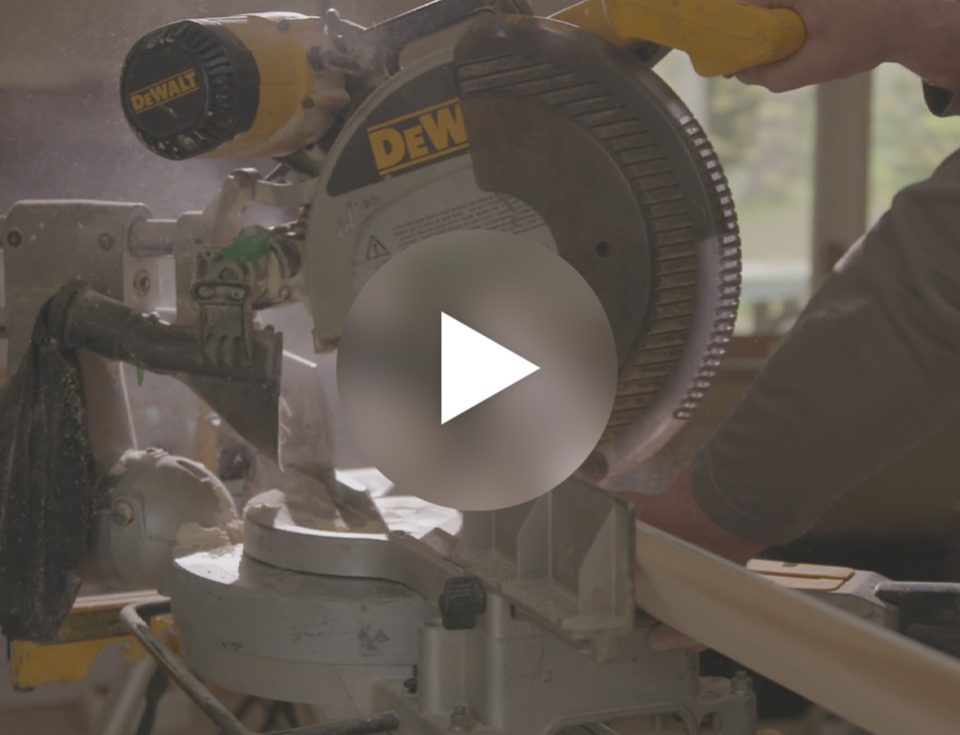 Construct
with confidence
Site Communication
Your Lead Carpenter will communicate progress regularly in person or with a note, text message or email; whatever you prefer. A Lead Carpenter is only assigned to one major project at a time. They will be on-site every day to ensure your home is kept clean, safe and secure, your design is crafted as planned, and your job will be finished on time at the highest quality standards.
Project Management Communication
Your Project Manager will be the team leader who communicates daily with the entire Pioneer team and all sub-trades, keeping them aware of every production detail and deadline. At each key stage of your project, they will meet with you, in addition to providing weekly summaries that include key deliverables, any outstanding issues/items, new concerns, and any changes to the project flow.
Change Orders
Continuing changes, whether they affect cost or not, will be communicated directly to you via email and documented on Change Orders for your sign-off approval. Any member of the team can issue a Change Order, and the Project Manager will ensure they are signed and submitted to the right team members for invoicing, scheduling and next steps.
Punch List
Although less exciting, punch lists are a key part of our process that occurs towards the end of your project. It's a vital tool that your Project Manager and Lead Carpenter use to evaluate the completion of your renovation. It outlines any items that might be deficient or defective and need attention. The Project Manager will then share this with you and the whole team, along with an updated timeline to complete the few remaining items. This way everything is tracked and nothing missed.
Tell Us About Your Experience
At the completion of your renovation, we earnestly invite an evaluation from you using a Guild Quality Survey; a third party company that collects authentic client feedback. We want you to tell us about your experience with our team and your renovation results. We ask for your fair and honest feedback related to the entire process, where we exceeded expectations, and any areas of constructive criticism. Our team is committed to constant improvement and to help achieve this, we also conduct our own internal report card and evaluation of each and every renovation project we do. This approach, along with your comments, are beyond valuable as they are what help us continue to offer you and our future clients the very best.
Final Walk-Through
A week or two following project completion, we'll arrange to do a final walkthrough of your renovation to ensure everything has met your expectations. We'd love to take some "after" photos of your home at this time for our reference, and we'll request your permission to use those images in our future marketing materials. Occasionally, we'll ask to arrange for professional photos to be taken at a separate pre-arranged date and time. Although the project is complete and you won't see us every day, don't worry. We have an exceptional After Care Program just in case you need anything.
Closing Package
Your final 10% lien invoice will be issued 45 days after your Substantial Completion invoice (meeting 90% completion). This will be delivered to you along with your 5-Year Warranty Certificate and a package that introduces you to our After Care Program.
After Care
EXTRAORDINAIRE
Post-Renovation Program
No Pioneer project is considered complete without our industry-leading 5-year warranty delivered by our solid aftercare department. Our thorough and thoughtful aftercare program ensures that we stand firmly beside our niche that states we provide custom-designed high-performance renovations with exceptional care and attention, and that service is precisely what separates us from our competitor's standard craftsmanship warranty.
From top to bottom and inside out, Pioneer guarantees all workmanship, materials, and structural elements within the scope of your project that is not affected by misuse, neglect, or as stated otherwise within your aftercare warranty package.
You can trust that our team is always here and ready to help, so when you have any maintenance, service-based projects or future renovations that arise, just give us a call. We know how you like to work, and we know your home; that means we can get things done quickly with the high level of quality service and craftsmanship you've come to expect.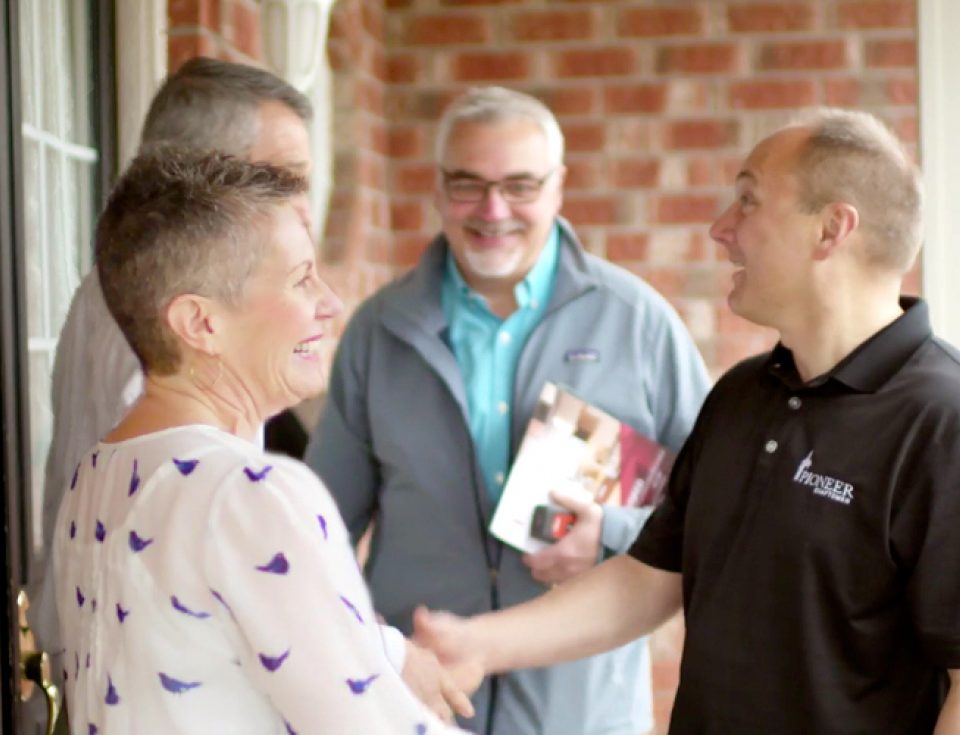 the best renovations have peace of mind built in
The Best Warranty & Aftercare Program
With the Pioneer Aftercare Excellence Program, you'll not only have one of the best warranties in the industry, you'll continue to receive exemplary service through our post-renovation support. Unlike other companies, our job doesn't end when your project is finished. We're committed to providing you with the guaranteed level of excellence needed to make sure your renovation performs at the superior standards it was built to.
To help you care for your new renovation, we'll go through an aftercare binder that includes all the important things you need to know like product specifications, maintenance tips, and suggestions to keep everything operating at its finest. We'll also proactively call you in six months, as well as meet with you one year after the completion of your project to talk about how you've been enjoying your new space and to ask if there's anything you'd like us to attend to. If there is, our friendly team will take care of it in the timely and thorough manner you're accustomed to.
Award-winning Design & Craftsmanship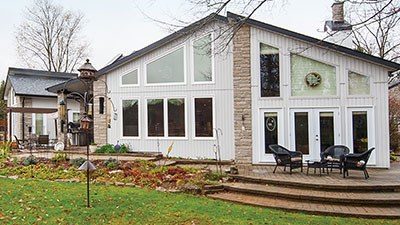 The Home Renovator You Can Trust in Kitchener-Waterloo
More than 140, 5 Star Reviews
"From the moment we walked in Pioneer's door with an idea we felt we were their priority. Jamie's initial home visit, Jamie and Jen presenting an initial design concept, Jen taking us to numerous locations to scope out finishing details and offering design expertise, meeting our Project Manager Brian and Lead Carpenter Mark. Can't say enough about the hard work and dedication shown by Mark and his sense of humour helped as well. Actually all the trades and staff encountered were personable and knowledgeable. Having said everyone we met made us feel we were their priority, our time spent with Jen and Mark made our experience "unforgettable" in a good way. If we ever consider additional renovations we will contact Pioneer."


Grateful Customer, Kitchener

"We were very satisfied with the project from start to finish. They were very professional and friendly. Everyone kept us in the loop and adapted to our busy family. The only real concern (before the renovation started) was the mess and keeping our boys and dog out of it. But they cleaned up every day and made sure stuff was safe and secure at the end of the day for our boys and Zoe. Big thanks to Paul, Brian and Lee. They made everything go pretty much seamlessly. Thanks to Paul for all the design help. Big, big thanks to Lee who was there every day making sure everything was done well and on time. Also, Zoe our "big scary watch" dog would like to say thanks for all the attention she received. She already misses everyone."


Thankful Customer, Kitchener

Let's Get Started!
Send a Message or Request an Estimate
Contact Us About Career Opportunities
Current career opportunities are always listed in our careers section.